6 Must-read Marketing Books for Fitness Entrepreneurs
Fitness entrepreneurs have deep knowledge of their field to run a fitness business. But things can become overwhelming for them when it comes to marketing their business.
In the short term, they may be able to work well on the basic knowledge they have but in the long run, they will have to acquire the understanding of various marketing nuances and concepts to survive and grow in their business.
To grow your business, it is important to understand how to market your business effectively. But, it can be difficult to find relevant material to attain such knowledge while running a business.

Here are 6 must-read marketing books for fitness entrepreneurs -
Contagious: Why Things Catch On by Jonah Berger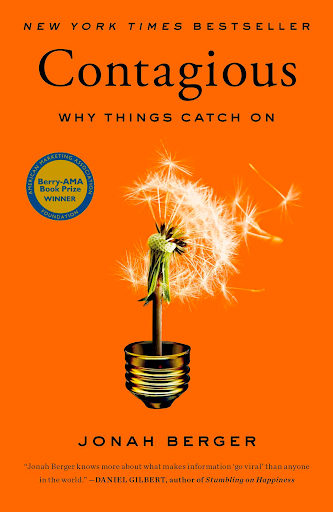 For gyms, word of mouth is the biggest source when it comes to marketing their business. The reason is that word of mouth builds trust and increases credibility. If a customer talks to their friends or families about your gym or fitness club, they're bound to be convinced more easily than any from any other means.
Jonah Berger, in his book Contagious, explains how modern marketing ways such as word of mouth and social media play a bigger role in making products go viral and gaining popularity than the traditional marketing ways. College undergrads, young entrepreneurs and small business owners will find this book insightful.
Fitness entrepreneurs can learn various techniques - for spreading messages and information and for creating amazing advertisements - provided in this book to enhance their marketing skills and use those skills to accomplish their marketing goals.
Everybody Writes by Ann Handley

When it comes to marketing, content marketing is one of the most critical aspects of the modern marketing world. It is now really difficult for any business to grow without any good quality content distributed throughout various social platforms.
Almost all of the content platforms involves writing. But writing can a big struggle, especially when you might be starting up and not have any prior experience. A good marketer should have the know-how of writing well.
Everybody Writes will help you to master the writing process and create engaging content for blogs, emails and social media.
It will help gym owners and fitness entrepreneurs understand how to write professionally and get an edge over their competitors.
Building a Storybrand by Donald Miller
Building a marketing strategy is never easy and while starting a new business, it can be even more challenging. It is essential to understand the process of building a marketing strategy before actually implementing it.
Donald Miller, in his book, Building a Storybrand, helps entrepreneurs and small business owners to build effective marketing strategies and create quality content. He has laid out a 7step process where he also uses movies as analogies to explain various difficult marketing terminologies.

As a fitness entrepreneur or gym/fitness studio owner, you should read this book to easily understand various marketing concepts and implement them successfully as per Miller's story process.
Two Brain Business: Grow Your Gym by Chris Cooper
Two Brain Business, by Chris Cooper, is one of the best books for gym owners. It covers all the business aspects that a fitness entrepreneur needs to work on such as marketing, finance, sale and hiring, etc.
All the strategies and theories mentioned in the book are tried and tested with successful results that can help in growing your business. Also, it helps people learn to work effectively and efficiently.
Chris Cooper formulated the strategies based on the activities that the left and the right brain perform. The left brain involves all the critical and logical thinking while the right brain is the host of all the creativity and imagination. Cooper's strategies are packed with both of these qualities and directed towards the growth of fitness businesses.
The 22 Immutable Laws of Marketing by Al Ries and Jack Trout
Al Ries and Jack Trout ask the question of why shouldn't there be laws of marketing, such as laws of physics and laws of the universe, that must be followed to market effectively and grow businesses.
Based on this question, they have laid out 22 laws that should be followed for understanding and implementing marketing techniques that help in the growth of businesses.
Fitness entrepreneurs should go through this book and understand these laws to grasp various marketing concepts that can help them grow their businesses.
How Brands Grow: What Marketers Don't Know by Byron Sharp
Fitness entrepreneurs should know and understand various concepts to market their business. They should have information about what can work and how they can leverage it towards the growth of their business.
How Brands Grow is an evidence-based book with decades of research on various marketing theories. It busts out various marketing myths with help of detailed statistics. Sharp lays out marketing practices, backed by scientific research, to grow businesses.
It helps in understanding how loyalty programs and advertising work, how brands grow and what is the actual impact of various promotion activities.
In the last few years, this book has become a must-read for marketers and entrepreneurs.
Conclusion
These books should help you get a better understanding of marketing concepts, how to build your marketing strategies and market your fitness business without any hassles.  Let us know which ones out of these you liked the most!