7 Marketing Ideas for Your Yoga Studio during Halloween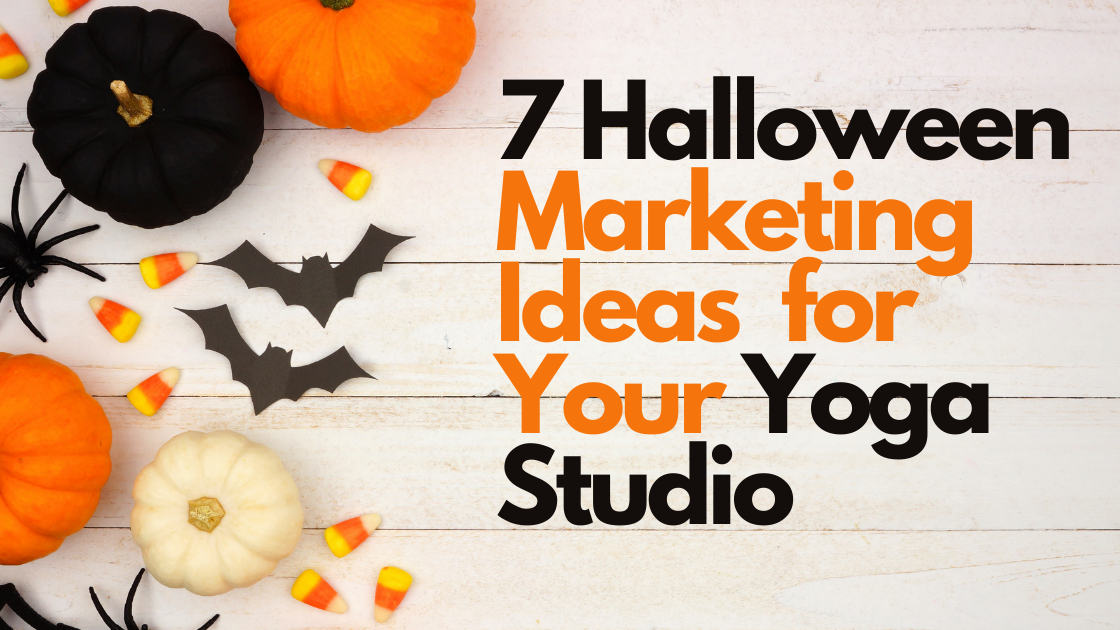 It's almost October, which means spooky month is officially here and Halloween is creeping around the corner. Throughout this festive season you can expect to see supernatural decorations, scary costumes and, of course, creatively carved pumpkins wherever you go.
But what does this mean for your yoga studio business? Well, October is the perfect month to start a themed marketing campaign to draw in more clients and encourage returners with special promotions and offers.
Here are 7 spookily effective Halloween marketing strategies to promote your yoga studio:
Dress Up Your Studio
First things first: align your yoga studio with the festive season and get your clients in the Halloween holiday spirit with devilish decorations.
Why not try:
Lining up pumpkins outside your studio
Placing bat bunting along your walls
Draping spider webs around the room.
Decorating your yoga studio will not only capture the festive period, it will combine your practice with the occasion and leave a brilliant impression on your customers.
Create a Halloween Costume Competition
From scary skeletons to wicked witches, dressing up for Halloween is a popular tradition. Get your clients involved in the fun by designing a costume competition.
For example, if you have a social media marketing strategy you could:
Get clients to upload a photo of themselves in a Halloween costume and tag your Instagram handle.
Even better: Encourage participants to strike a yoga pose in their scary costume!
Choose one winner each week and offer them a prize, such as a free yoga class, discounts for your yoga studio in November, or a similarly exciting priz
Whatever you choose to do, make it fun and make it inclusive so that clients are keen to participate!
Update Your Social Media and Website With Halloween Imagery
Bring the festive season to your yoga studio's homepage by adding in a Halloween theme.
Just like Google's themed icon, which is often updated to celebrate international holidays and anniversaries, why not change up your business logo to give your customers a visual reminder that October is a promotional month?
Get your team to dress up in Halloween costumes and update your profile images during October to show clients your fun and inclusive side.
If you're a real tech whizz, you could add some animated bats or yoga-bending skeletons to your page for added marketing fun.
Get Your Clients to Share Their Yoga-Pose Pumpkins
That's right: Not only can you encourage a Halloween pumpkin carving competition, you could give it a yoga theme by suggesting clients carving it with their favourite yoga pose or yoga symbol.
The best carvings can be awarded with a Halloween-themed treat, such as a free class in November, tickets to a movie, or similar.
Pumpkins could be submitted via social media, or even by bringing in their pumpkins to showcase in your yoga studio.
Incentives are always a great way of getting people involved in an event and a great marketing strategy.
Grab a Partner
It is well known that partnerships work well in marketing strategies, so get talking with local businesses or brands that you admire and offer a partnership promotion with them.
Just as Anytime Fitness presents a huge range of partnership discounts, from nutritional supplements to high-street fashion stores, find a partnership that will bring added value and incentive to your customers when they attend your classes during October.
Run a Halloween-Themed Class
For all the fun and games of Halloween, some individuals just want a supportive group and community to belong to throughout the year, and this shouldn't be affected by this scary holiday.
Ensure you have inclusive events at your yoga studio, for example:
Consider creating a "Scary Season Sessions" plan to incorporate wellness events such as a class overcoming fear, or breathing techniques to manage anxiety.
Promote these special sessions via newsletters and social media as part of your marketing plan to encourage clients to join your Halloween wellbeing events.

Give "Trick or Treat" Halloween Sign-Ups
Create a "Halloween Opening Weekend" to encourage yoga class attendees over the weekend leading up to (or around) the 31st.
As demonstrated by Your Gym Fitness, this can be a very successful promotion in enticing customers to classes over just a few days.
For example, you could:
Offer guests a "trick or treat" special with their attendance or sign up to your yoga studio. For example, they could pick from three "treats" and try earn three "tricks".
"Treats" could include a free class, free merchandise or discounted equipment.
"Tricks" could include attending every session in a month to earn one month free, inviting a new friend each month to earn a free class, or following the studio's social media for additional free digital content.
It's all in the thrill!
Halloween is a perfect season to entice new and old customers to your yoga studio with thrilling offers and goodies. From wicked costume competitions and devilish decorations, to spooky social media updates and themed events, you won't be short of marketing material this October.
Credits: Charlotte Osborn