The Ultimate Guide to Make a Coaching Marketing Plan
According to CoSchedule, organized marketers are 397% more likely to succeed. Regardless of the industry you are in, you need a marketing plan for your coaching business.
There are many marketing activities a coaching business can execute to increase awareness about its business and acquire customers. However, carrying out such activities without an understanding of the key aspects, such as how much resources to invest, when to invest, what to invest it in and who would be doing what, can lead to failed execution and business losses.
A coaching marketing plan is a document that coaches can use to organize, execute, and track their marketing strategy and execution over a specific period. It is the blueprint of how the marketing strategy is going to be implemented.
But why is a coaching marketing plan needed?
Provides direction and focus
A marketing plan lays out what is to be done by whom and when. This helps you and your team stay focused and work according to the schedule.
Helps manage resources effectively and efficiently
It helps to manage resources properly as it lays out all the activities with the required details such as who has to perform the activities, when they are to be conducted and how much money is to be invested in every activity.
Provides clarity
It helps everyone within the business to have clarity of what they are doing, what is expected of them and how they are performing. It also helps everyone in having a clarity about the business goals and its growth targets, and their role in helping the business achieving those targets.
Now that you have understood what a coaching marketing plan is and why it is so important for your coaching business, let us understand how to create one.
Step 1: Start with Defining Your Coaching Niche
One of the first aspects about your coaching marketing plan is to define your niche. A niche is a focused or a specialized targeted area that you can serve exceptionally well and which differentiates you from the competition. The smaller and more specific it is, the better for your coaching business.
Having a defined niche for your coaching business is important because
It helps keep a consistent stream of high revenue as most of the high ticket niche customers stay for the long term
It increases brand awareness through means such as word of mouth and helps in getting new customers
It enables you to maintain high level of service which increases the credibility of your coaching business
Finding the niche for your coaching business can be done in the following 3 steps:
Identifying high paying problems that you can solve
Choosing the most profitable problems out of the identified ones
Narrowing your coaching niche
For example, simply providing a health coaching program for any type of person won't help you much since that kind of information is already available on the internet for free. If you provide a health coaching program for a specific audience, such as, a health coaching program for women who have recently given birth, it will make your coaching business specialised in a field and you'll be able to earn trust more easily and build credibility of your coaching business. You'll also stand out from your competition.
Click here to find out the 18 best paid coaching niches to grow business.
Step 2: List Down All Coaching Marketing Strategies
Once you have defined your niche and found out your target audience, the next step is to understand and outline the type of content you want to create and the marketing activities you want to perform for your coaching business.
Provide Content
People are always looking to become a better version of themselves. They are seeking for new ideas to boost their strength, health and happiness.
Creating and sharing engaging and insightful content is a great way to attract eyeballs and generate inbound coaching leads.
Content creation is important because it helps you:
Provide educational and useful information to your audience for free
Attract more people to your website and increase your lead generation
Retain existing customers by engaging with them with quality and personalized content
You can come up with content ideas by understanding your audience's wants, asking them directly about their needs, monitoring your competitors' content and using various tools such as Google Keyword Planner.
Once you understand how to come up with content ideas, you can start trying different formats in different mediums:
Blogs
Blogs are one of the most evergreen mediums to create content. One time effort helps you create everlasting value. Additionally, it establishes your credibility in front of Google, providing you a big boost in search rankings.
Videos
Videos have the highest engagement as compared to all others. People find it easier to watch videos and consume information through them. Plus, it is much easier for people to connect with you through a more visual medium.
Podcasts
Podcasts have become a trend recently. It's very easy to consume information through podcasts as you don't have to focus too much compared to blogs and videos. People can listen to a podcast while doing various house chores, working out, driving to work, etc. You can host a podcast where you interview various popular health and fitness coaches. You can discuss various topics around health and fitness and ask them to share their tips and insights for your audience.
You can also explore this detailed guide on how to create the best content ideas for coaches that we have created.
For example:
Elizabeth Rider is a leading health coach, blogger, whole living expert and a successful entrepreneur who helps women around the world to live healthy and well. She creates tons of value through her content around nutrition, beauty, health, mindset, lifestyle and business. This content not just helps her attract high ticket clients but has also allowed her to open other revenue streams such as online courses, products, etc.
Here is a snapshot of her blog: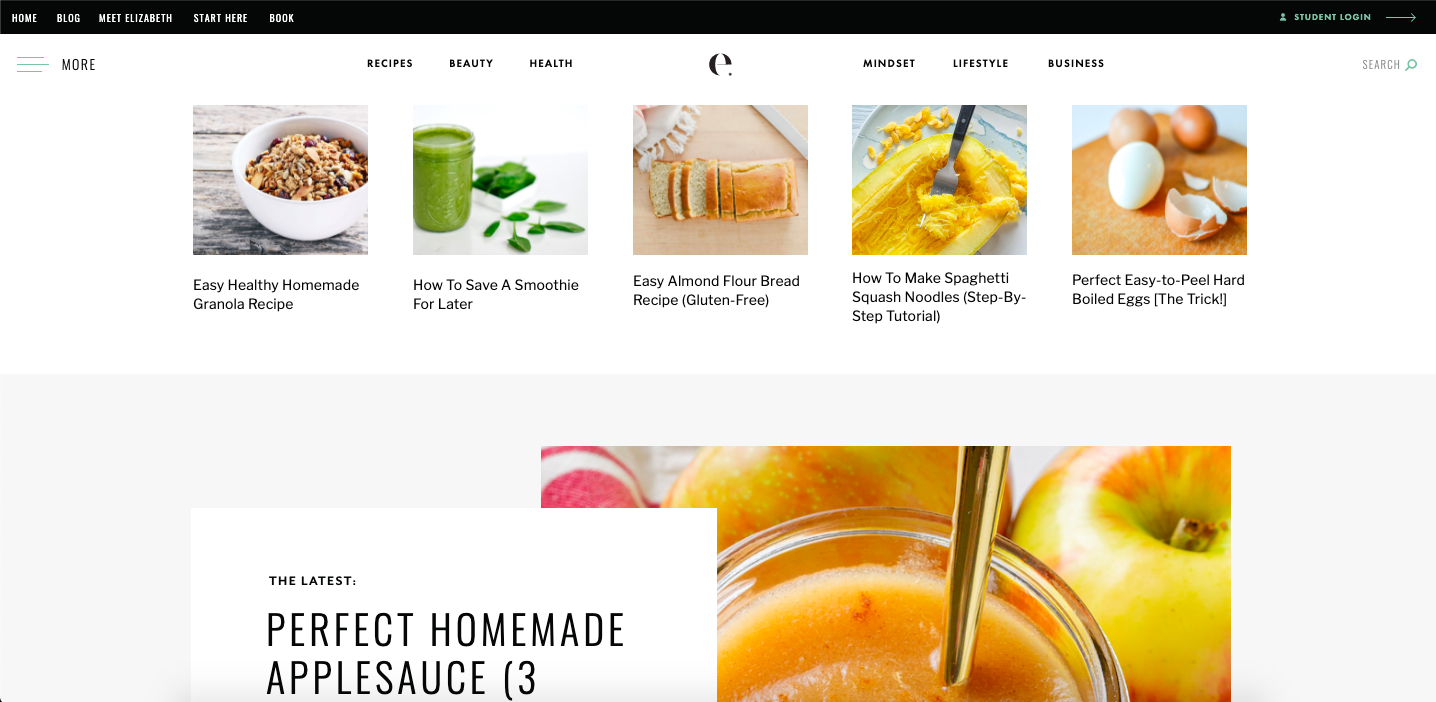 Ask for Referrals
Having a referral program is one of the best ways to market & grow your coaching business. It helps you increase the awareness of your coaching business without spending too much.
But what is a referral program?
A referral program comprises of asking your clients to spread a kind word about your coaching business to their friends or family members. In return, you can provide your clients various offers and benefits, if a person joins through their recommendation.
Here are some examples of the benefits you can offer:

A combined discounted package for both your existing and new client
A 20% discount on membership renewal
Free exclusive merchandise and nutrition supplements
Don't pressurize your clients by rigorously asking for referrals. Build a good relationship with them and ask them nicely. If they're happy with your services and feel valued with you, they'll spread a good word about your coaching business.

Host Coaching Workshops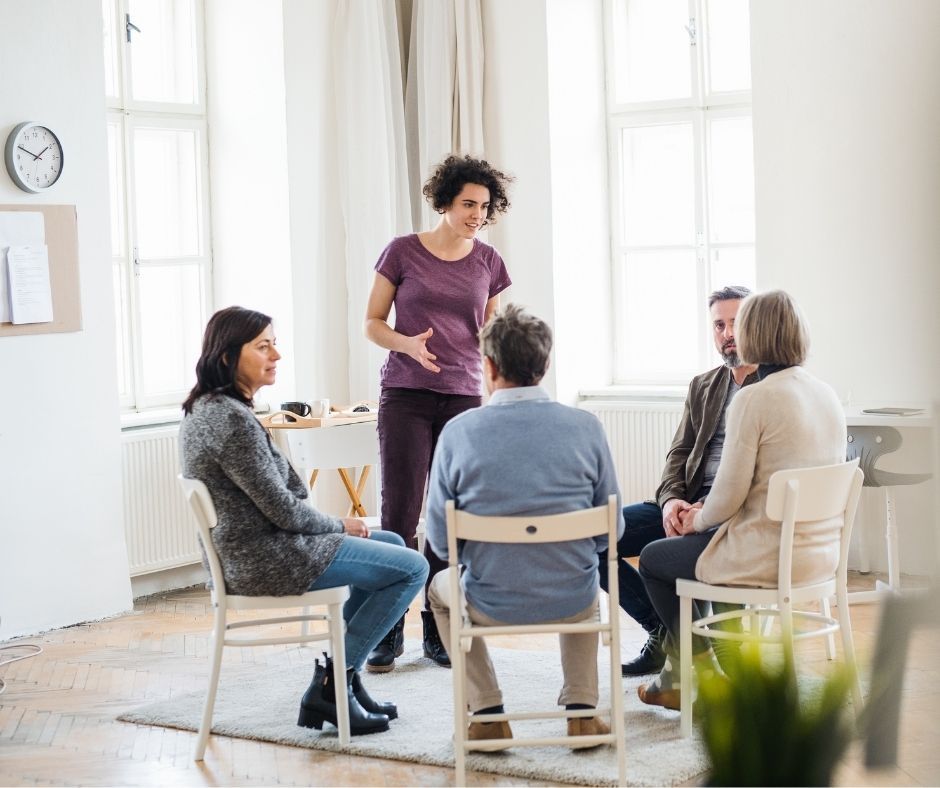 Hosting workshops is a great way to establish face to face connect with people and build trust around your coaching niche.
You can host your workshops periodically, say, once every month either in person or online. Keep your workshop interactive and invite questions from your participants. Hold a Q&A session or an open discussion session at the end of the workshop. Allow the participants to interact with you and at the same time engage with each other as well.
Make sure to collect contact details such as emails of the participants so you can include them in your email list to send them your weekly newsletters, offers and information about upcoming workshops.
Also, give them your contact information as well so they can contact you if they want to take your coaching business services.
For example:
You can host workshops on topics such as, "How to build a strong immunity while staying at home?". Explain which foods have high nutrients and which are bad for health along with explaining various workouts or yoga exercises which your audience can do at home without any barriers.
You also have to assess whether to keep your workshops free or paid. If you have just started your coaching business, then begin with free workshops. As you gain trust and increase credibility of your business, you can start charging for them as well.

Organize Challenges and Contests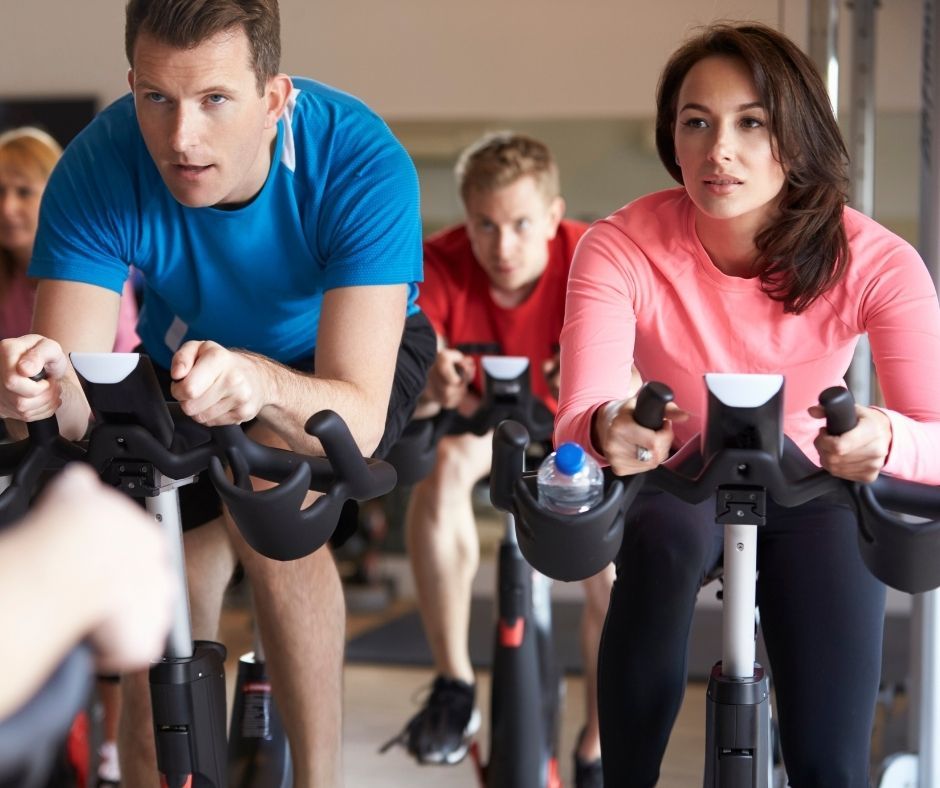 Organize various challenges for your audience. It helps in increasing engagement in a fun and creative manner.  This helps them to put more effort for their fitness and also stay with you for a longer period.
Once they realise how useful your challenges are and notice the difference in themselves, they'll approach you to book a session and take your services.
You can send out such challenges either through your content on through your email newsletters.
Here are just some examples of contests and challenges:
5 Day Weight Loss Challenge
7 Day Juice Challenge Plan
28 Day No Sugar Plan

Build an Email Newsletter Community
Regular content creation, workshops and challenges help you build an email list. You can start a newsletter in which you share tips, best practices, helpful resources and guides, in line with your niche, to stay in touch with your clients and promote your products and services at the right time.
Always send relevant and valuable emails. Don't clutter the inbox of your email list by sending too many emails as they might start feeling irritated and overwhelmed. This might force them to either mark your emails as spam or opt out from your emails.

Offer Free Coaching Sessions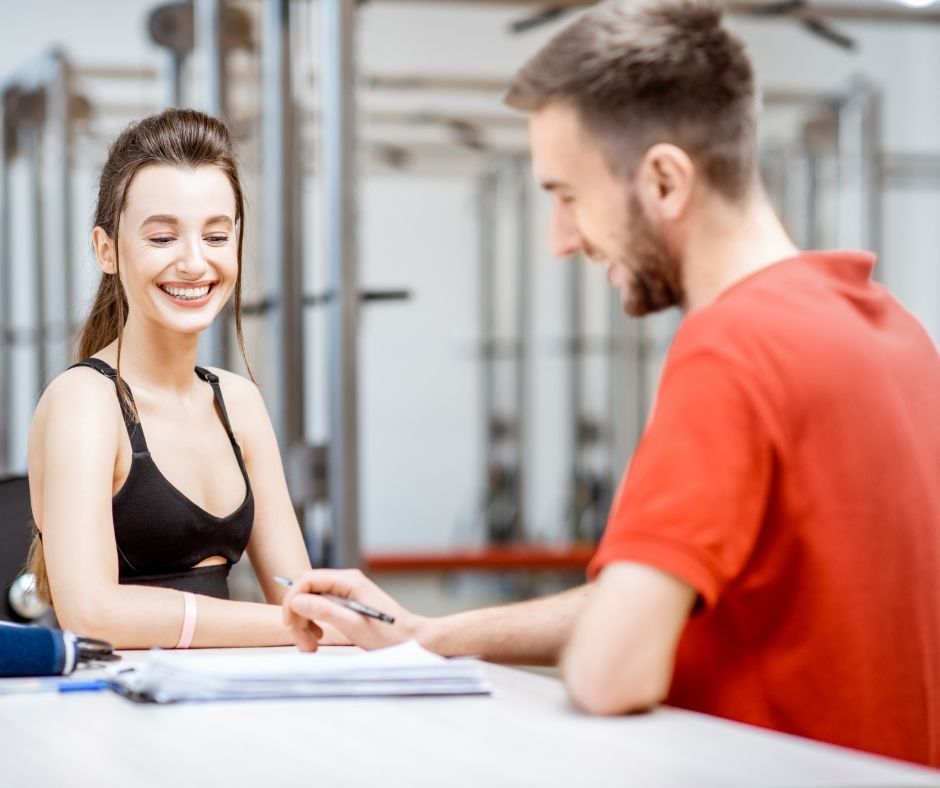 Provide a free session to your potential clients before your charge them for your services. Let them have a real experience of your services and understand what they're in for. Answer all their questions kindly, introduce them to your staff and take them through a trial session. Once they have all the information and their own experience, they'll able to decide easily if they want to take your services. This helps to build trust and increase credibility of your business.
Maintain the same level of professional behavior and quality of your health coaching services even after the free consultation. If you reduce the standards of your services once a person joins, then it will give a bad impression and the credibility of your business will fall down.
Build Your Coaching Network
One of the best long term marketing practices is building your network with similar coaches and other local health professionals. It will help you increase awareness about your coaching business and acquire more customers.
It will also help you to understand the trends in demand, various new services that other coaches are offering and the kind of clients they're acquiring through those services.
Building long term relationships will also help you survive during times of crisis and keep your coaching business growing.
Encourage this idea among people around you who are in the same industry. Help them understand how helping one another will have benefits for everyone such as getting more customers.
If you're wondering how to break the ice and start building a connection, here's an example that you can try:
Collaborate with a nearby yoga studio that can provide coupons to their customers for a free consultation with you and in return, you can provide coupons of free yoga sessions at the yoga studio.
Holiday Marketing
Take the most advantage of the holiday season. Marketing your coaching business during the holiday season can be vital for its growth. You can make a holiday calendar and schedule various limited time campaigns, deals and offers for different holidays throughout the year.
Here are some campaigns/offers you can run during the holidays:

Host a week long campaign during Christmas and New Year providing unique deals and offers for each day of the week
Organize a Black Friday sale where you offer your coaching services on huge discounts. Keep the offers as first come first serve only for a few people.
Set up a special Thanksgiving get-together for your clients where they can meet and get to know each other and have a fun evening. This will also help in making your community stronger.
Marketing on Facebook
Facebook is probably the biggest channel that you can use to distribute your content. It has the highest number of users among all the social media platforms. You can use Facebook groups to create and build engaging communities and understand your audience. At the same time, you can also create awareness about your business and offer your services. You can also use Facebook ads to promote your coaching business by using some amazing targeting features that it provides.
Pinterest Marketing
Pinterest is a social media platform that helps people find out ideas related to their interests, hobbies or profession. The posts are known as Pins and are linked to websites which makes it a great platform for driving traffic. Pinterest can be used as a great SEO tool to generate more leads for your coaching business.
Instagram Marketing
Instagram is one of the most used social media platforms these days. Upload pictures and videos of various coaching services you provide. Post Stories to share daily educational insights and tips. Use the Live feature to engage with your followers and understand their problems.
Twitter
Twitter is another trending social media platform. You can tweet engaging posts and link them all together to create a meaningful short form educational content for your followers. Use hashtags to increase the reach of your tweets and get more engagement.
Here are some of the best tools that can help you with these marketing activities more effectively and efficiently:
Step 3: Make a Marketing Calendar
After deciding on your content and activities, and choosing your distribution channels, you need to make a marketing calendar.
Before jumping onto why it is so important, let's understand what a marketing calendar is.
In simple terms, a marketing calendar helps you cover your marketing activities for a specific period such as 3 months, 6 months or one year. It provides a clear overview and helps to perform your activities strategically.
A marketing calendar is necessary for your coaching marketing plan because of the following reasons:
Staying in the right direction: A marketing calendar shows all the activities that will be performed in an order for a specific period. This helps to stay focused and follow the path already laid out.
Keeping your team in loop and assigning activities to them: It clearly shows who is assigned to perform a specific activity so there are no doubts or conflicts in the team which may lead to a disruption in the marketing plan and harm the successful completion of the marketing activities.
Tracking the progress of your marketing activities: It helps to track the progress of marketing activities by comparing the actual timeline of each activity with the standard timelines.
Here are a few resources of various marketing calendar templates that can get you started:
Step 4: Measure Measure Measure
Your coaching marketing plan is not complete just after setting the activities and creating the calendar. Once your marketing plan is in motion, it needs to be constantly evaluated to analyze whether it is delivering the best results efficiently.
Here are 5 ways you can use to evaluate your coaching marketing plan:
Return on Investment
One of the most important ways to evaluate your coaching marketing plan is by measuring your return on investments. Measuring your return on investment means checking whether the money you invested in your marketing plan for your activities result in a profit or not. Compare the revenue earned with the amount spent on each marketing activity to find out if you had a positive return on investment.
Customer Reactions
Customer reactions are the best indicators to understand the impact of your marketing activities and campaigns. Surveys online and in person and customer service feedback reveal the perspective and thinking of your customers towards your service and your marketing activities.
Actions of Competitors
How your competitors react towards your marketing activities can help in understanding the impact of your marketing plan. If your competitors try hard to beat you or start copying your tactics, it shows that your plan works well and is on track to being a success.
Reviewing Lead Generation
Apart from the direct sales and return on investment, the number of leads generated also indicates the impact of your marketing plan. Your marketing plan can be termed successful if it helped in generating considerably more leads than before from more different sources.
Reach of Marketing Efforts
If your coaching business' awareness is increasing, then it is a positive indicator for the effectiveness of your marketing plan. If your coaching business makes its way into new areas either by customer recommendation or word-of-mouth, it indicates a successful experience and increases the credibility of your business.
Conclusion
A marketing plan for your coaching business will help you to organize marketing activities for the people who want your service, understand which channels to use to reach your audience, stay focused and follow your timeline, and analyze the effectiveness of your marketing activities.
Give equal emphasis to each phase to get the best results from your coaching marketing plan.