4 Effective Fitness Content Marketing Strategies to Attract Clients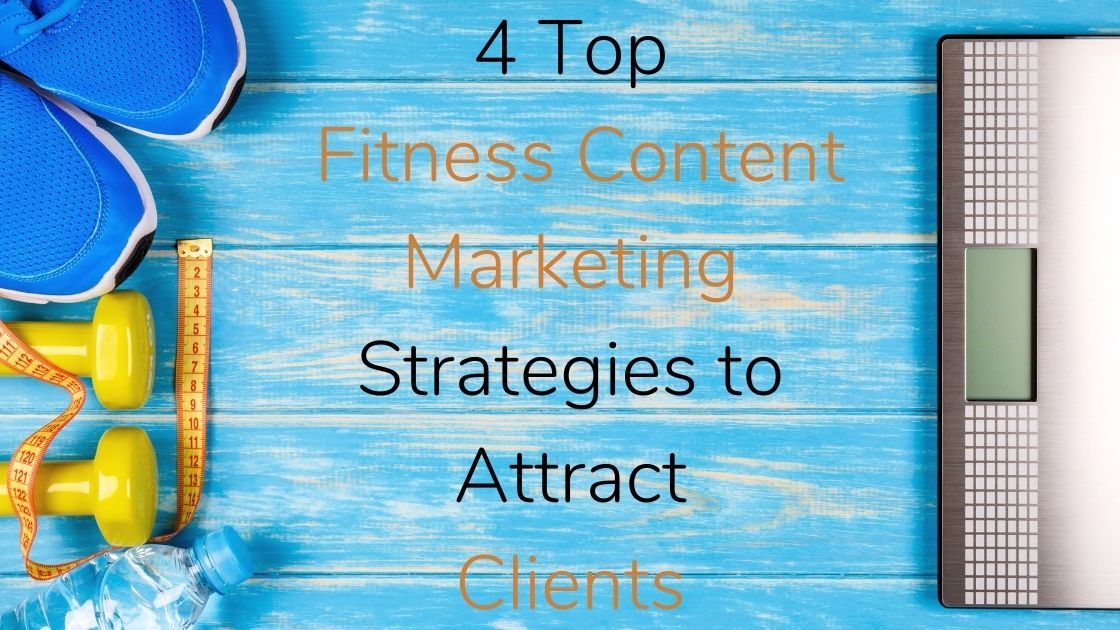 One of the problems of being a fitness entrepreneur is gaining clients. You have the specialist knowledge, training and passion, but you need clients for your business to thrive.
Increasing search traffic and website visitors will help boost your online visibility and increase your client base. This can be achieved through effective content marketing.
With good quality content and a marketing strategy you will:
Build your brand, which will position yourself as a trusted and authoritative fitness professional.
Encourage repeat visitors to your fitness website, boosting your online visibility.
Increase your email subscribers, with the aim of conversion into paying clients.
Effective content marketing is also important to rank on Google searches so that you appear high in the search results.
Here are 4 tips on how to attract fitness clients with effective content marketing:
Create Engaging and Shareable Content
Your content needs to be interesting at the very least, but also exciting or surprising enough for people to spend their valuable time reading your articles rather than any other article on the web.
For content marketing to be effective, you need to create outstanding articles or material to stand out from the crowd.
But as there's so much fitness content already out there, how do you make yours the one that readers want to read?
By inspiring emotions such as awe, surprise or even anxiety, your reader will want to read your content to find a solution to their problem.
Providing useful and practical information will engage your readers and inspire them to share your work with others.
Ensure that your content is funny, moving or presents a controversial idea. These types of content attract more attention.
The goal is to create valuable and useful fitness content which will inspire your readers to share on their social media and keep them coming back to you for more.

Creating In-depth Articles is the Key to Google Ranking
Ranking in Google searches is an important aspect of content marketing, and imperative for being visible to potential fitness clients.
Many people fall victim to believing more is better when it comes to content, however, but lengthy articles are not what Google is looking for.
In 2019, Google's Webmaster Trends Analyst John Mueller revealed that word count does not affect your ranking on Google's search pages.
What is apparent is that Google wants its users to find the most useful and standout information for the problem or query that they have.
Google doesn't want you to write reams of information, but your writing can't be too concise either.
So how do you ensure that your content marketing efforts will appear in Google searches?
Use an authoritative voice and share your specialist fitness knowledge.
Include references from high-ranking and trustworthy sites to back up your information.
Research and plan your content to make sure it is relevant, real and interesting.
For your articles to be in-depth you need to give your subject careful consideration, but also catch the reader's attention with a punchy headline, which takes us to our next point:
Create Catchy, Engaging and Surprising Headlines
Headlines work as a hook to to grab your readers' attention. Without a impactful headline, there is no hope to engage readers with your fitness content.
An engaging headline should include:
Active verbs such as "increase", "boost", "improve" to show what readers will gain from reading your content.
Concise language: you want to convey your message in as few words as possible to maintain interest.
Keywords from your copy in your headline to boost Search Engine Optimisation (SEO).
Above all else, avoid click baiting. Click baiting headlines insult the intelligence of your reader by tricking them into clicking on your website with a misleading headline.
This works against your Google ranking and readers will not trust you. Ensure your headline is smart, concise and catchy but honest, and also relevant to your fitness business for effective content marketing.
Give Value for Free With Fitness Content
This is potentially the most understated content marketing technique.
In order to attract quality readers to your site, and for them to keep returning and one day invest in your services, you need to create fitness content which will add value to their lives.
As a fitness expert, you need to show that you want to help people solve their problems. This can be achieved by:
Offering free advice and solutions which are accessible to visitors of your website or email subscribers.
You can offer fitness advice in the form of webinars, ebooks or videos.
Create a dedicated "free resources" or "tools" page to collect and present your quality fitness content.
By giving quality free content without asking for payment or a subscription charge, readers will be able to see the value of your work and in turn will become paying clients for your more exclusive fitness services.
It is about Quality, but Also Quantity
It's important to not only provide quality fitness content for your audience, but to also provide it on a consistent basis.
Not all of your audience will be interested in every article you write, so the more you can share, the more likely you are to keep your readers interested.
Good content marketing will attract clients to your services and brand and will lead to customer conversions, ultimately boosting your revenue.

Credits -  Charlotte Osborn