7 Gym Member Retention Strategies
While gyms work on getting their marketing plans and strategies optimised to get new customers consistently to bring in new sources of revenue, it is the revenue from membership retention that leads to the long-lasting survival of the gyms.
Often people do purchase gym memberships but after some time, they stop turning up at the gym and never renew their membership. It is necessary to understand the reasons why members leave the gym soon after joining.
Some of these reasons are:
Setting unattainable targets
Expensive memberships
Lack of personal communication
Here are 7 strategies to increase your gym's member retention and grow engagement:
Build a community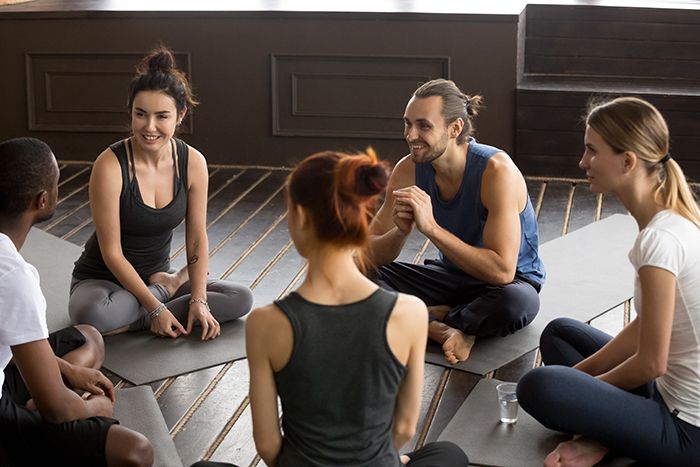 Building a gym community can help in keeping members' morale high and increasing retention. According to a study by Nielsen group, 36% of people who exercise prefer to work out with a group or in a class. A few ways that can help you in building a strong community for your gym:
Organising various weekly or monthly competitions along with having rewards for the winner gives members attainable goals to work for
Having group workout sessions and classes like a group meditation class, yoga class, Zumba, etc helps in boosting motivation to turn up at the gym consistently
Create private groups on WhatsApp and Facebook for members so they can interact with each other and build a friendship
Setup various contests and challenges on your social media pages to increase member participation and engagement
At the same time, such groups can help you promote various activities and take feedback from your members on your gym's service. Understand their satisfaction level and what kind of additions can improve their overall experience.
Host a social event
Hosting various social events and get-togethers during the holiday season and giving small gifts induces a sense of family for the members. Setup various activities with lots of food and drinks. Don't forget to add music. Let the members bring a plus one or their family as well to enjoy the day.
Make sure everyone enjoys and get a sense of belongingness with your gym.
Put up posts on your Facebook and Instagram pages along with your email newsletters so that all your members are aware about the event and don't miss it.

Provide a personalised experience
Many times, members feel like they are being ignored or their needs are not being taken care of. This makes them feel distant and urges them to stop coming to the gym and can decrease retention rates for your gym.
Try to maintain personal communication with each of your members.
Track their activities and interests and send them personalised emails and messages during their absence
Give them a small gift on their birthday to let them know that they are valued
Also, share any offers and promotions that they may be interested in based on their activities at the gym
Follow up with them and consistently take feedback about your services
Discuss their goals and help them in setting realistic goals. Give them tips on how they can achieve those goals.
Have a wide range of offerings
Don't just provide a gym membership, offer various one-to-one and group classes such as Yoga, Meditation, Crossfit, HIIT, Zumba, etc. You can even survey your members from time to time to know what other activities you can and should offer and how satisfied they are with the existing range of offerings.
Let your members have a plethora of options to choose from so they can participate in whichever activity they feel like instead of following a monotonous workout regime.
Along with the range of offerings, provide various timely offers to influence them to retain their membership. There are various offers you can provide such as:
Limited period discounts on monthly/yearly memberships
Giving off free merchandise on any purchase made during the holidays
Bundling various offerings together at a special price such as personal training, yoga classes and nutritious meal plan

Educate your members
While you should keep on doing all the activities in the gym to take care of your members, you should also make efforts outside the gym. Create and distribute content on your social media pages, emails and blogs to educate your members about health and fitness.
Send them a weekly email newsletter involving home-cooked food recipes and meal plans
Share different types of simple home workouts and equipment on your social media pages
Write blogs about the value of nutrition and a balanced diet, educate your members about the significance of various exercises for different muscle groups and other aspects of health such as the importance of a good sleeping routine

Retention Email series
Retention emails play a big role in customer retention. Understand why a customer is leaving or is thinking to leave your gym. Send them emails ranging from showing how much you value them to providing personalized discounts and offers.
You can retarget your old customers by providing them with new offers and showing them how they'll have a better experience. You can also interact with people who had previously shown interest, took a trial session but didn't join your gym.

Gym infrastructure and hygiene maintenance
If your gym infrastructure isn't properly maintained and isn't hygienic, members will tend to leave it no matter how many retention strategies you try to implement. Constantly check that all the equipment is safe and modern, proper hygiene is maintained and the entire establishment is well cleaned and sanitized.
Make sure to get all the repairs done whenever needed and keep the gym in proper order.
Conclusion
The primary thing is to understand why your members are leaving your gym in the first place. Only then you'll be able to identify and implement the right strategies to boost your gym loyalty. We hope these strategies help you in increasing your gym member retention rates.