A 6 Step Guide to Blogging for Nutritionists
When you enter the realm of marketing your nutrition business, it doesn't take a lot of time to realize how important blogging is to your business. It helps you to have a better search engine optimization (SEO), engage more with your audience and clients, and generate more leads through all the relevant call-to-actions (CTAs).
The same applies to your nutrition business as well. Whether you are just starting as a nutritionist or have been working as one for years, it's never too late to start with your nutrition blog. As a nutritionist, creating and providing high quality content will help you build a strong presence and increase the credibility of your business.
Let's dive a bit deeper into why blogging is necessary for nutritionists:
It allows you to promote your business without using conventional methods such as advertisements.
It enables your audience to get more educated about their health which, furthermore, makes them consider you as an expert and build their trust in your business.
It helps you to reach out to a wider audience, have a high SEO performance and generate more leads.
In this article, we'll discuss more about how to write a blog post as a nutritionist and various blog post ideas to help you get started.
How to Get Your Blog Started as a Nutritionist
Here is the simple 6 step process that you should follow to start your blog as a nutritionist:
Step 1: Create Your Blog Page
The next step is to create a blog page where you will publish all your blog posts. You can use Wordpress, Ghost or Wix. They are the best blogging platforms among a plethora of options. This kind of platforms help you have complete ownership of your blog and your website.
Apart from this, you can also use social media platforms such as Facebook, Instagram, Quora and Medium. Such platforms won't consume too much time to set up and will give you the access to millions of daily users.
You can try this option while starting out your blog as a nutritionist and later move to having your own blog website once you gain experience.
Once you choose your platform and begin creating your blog, choose a logo and a name for your nutrition blog. Select a name that resonates with your nutrition business and is catchy yet understandable for your audience as well.
Step 2: Understand the Basics of Blogging
Before you start writing your first blog post, you must first understand the basics of blogging to start well and create an excellent educational and engaging blog. Here are a few things you should keep in mind to have a successful nutrition blog:
Write in an active voice and keep it conversational
Try to avoid jargon and use simple words
Give paragraph breaks in your articles to make it more readable
Leave as much empty white space as you can to make it easier on the eyes for the readers
Always use credible data and mention your source
Step 3: Generate Ideas Around Nutrition
Generating ideas for your nutrition blog is not as easy as it sounds. First, understand and focus on the kind of content you want to post during different times in the year. Then focus on finding out specific blog post ideas for each article.
Some ways that can help you come up with content ideas for your nutrition blog:
Find out what your audience is looking for
Engage directly with your audience
Pay attention to your competitors' blog and other activities
Use Google Keywords
To understand these points in detail and get started with some popular topic ideas, you can check out the 4 Amazing Nutrition Blog Post Ideas to Get High Traffic.
Step 4: Research, Research, Research
One of the most important steps during your blog post writing is the research you put into your writing. You should give most of your time to your research in the process.
Understand and gather information by understanding the topic in detail that you have selected
Go through the already existing blogs that are around the same topic and can help in adding value to your topic and use your own understanding
Find out various statistics and facts from credible sources to use in your blog post
Find as many real examples as you can. You can even your customers' stories and experiences but only if they permit you to do so
Your research is the backbone of your blog post; the more time you spend on your research, the easier it will be for you to write your blog post. After completing your research, take some time to create a brief and outline the sections that you want to write about in your blog post.
Step 5: Write and Polish Your Blog Post
Once you complete your research and finalise your brief, it's time to start writing. Follow the research along with the brief and you'll feel like you're just filling in some blanks. Write your first draft with everything that you have understood and gathered in your mind. Leave it to rest for a while and get back to it after a few hours.
Review your first draft, cut out the information that is not relevant to your main topic and edit your blog post. Correct all the spelling errors and the unstructured sentences. Give spaces wherever required and make sure that your content is easily readable. Add a catchy yet understandable title for your blog post along with value adding and attractive images.
Step 6: Review Your Blog Post <Link review checklist>
Go through your article 3-4 times and finalise your blog post so it's ready to be published. There are certain points you should review properly before publishing your blog post, some of them are:
Relevance
Clarity and accuracy
Completeness
Voice and style
Usability
Check this amazing checklist that you should use while reviewing your content.
Step 7: Publish Your Blog Post
The last step is the easiest step in the process. Once you have reviewed and edited your blog post and are ready with your final draft, publish it on your blog.
After you publish it on your nutrition blog, share and promote it on all your social media channels and your nutrition business website to let your clients and audience become aware of your amazing nutrition blog.
5 Types of Blog Posts for Your Nutrition Blog <Add Images and Examples>
Here are various types of blog posts that you can use for your nutrition blog:
The 'How to' Blog Post
'How-to' blog posts are one of the simplest and most popular types of blog posts. These mostly act as tutorial or instructional posts to guide, educate and help people find a solution to their problems.
These types of blog posts will showcase your expertise and skillset as a nutritionist.
Some examples of 'How-to' blog posts are:
"How to cook healthy food at home easily?"
"How to limit your sugar consumption to lose weight?"
"How to avoid unnecessary snacking at home?"
For example:
Here is a 'How-to' post by Dr. Michael Greger's Medical Nutrition Blog, NutritionFacts.org.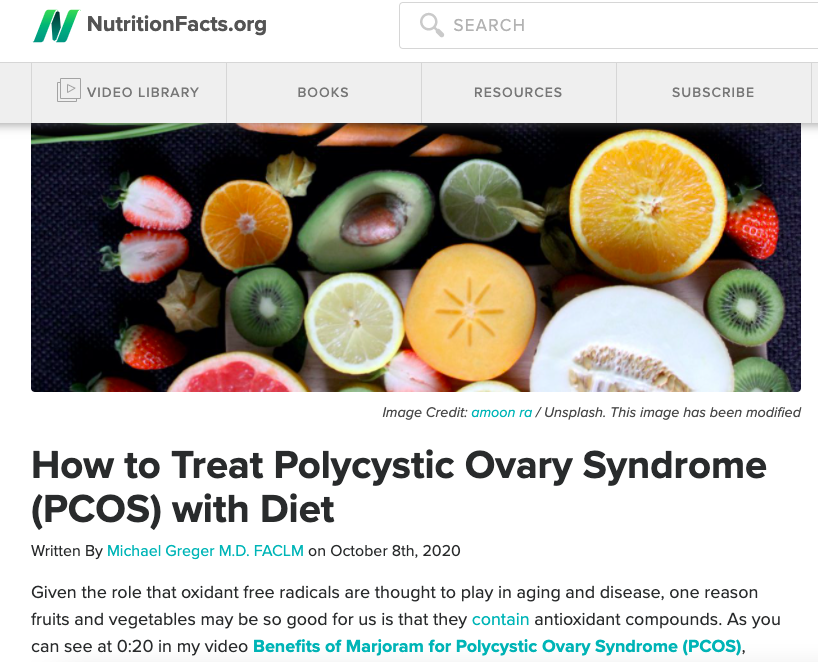 List Blog Post
List post is another simple yet popular type of blog post that you can use for your nutrition blog. These posts are easy to read and usually attract people easily because a lot of times, people don't prefer to read large chunks of text and want to skim through the important points.
Due to their likability, the list blog posts act as a source of high traffic for your blog and can help you generate more leads.
As a nutritionist, you can write list posts such as:
"6 High Fibre Content Ingredients For a Weight Loss Diet"
"5 Reasons Why Too Much Salt is Harmful For Your Health"
For Example:
Check out this list post by Quest Nutrition which provides blog posts with the aim to revolutionize food and make healthy eating fun.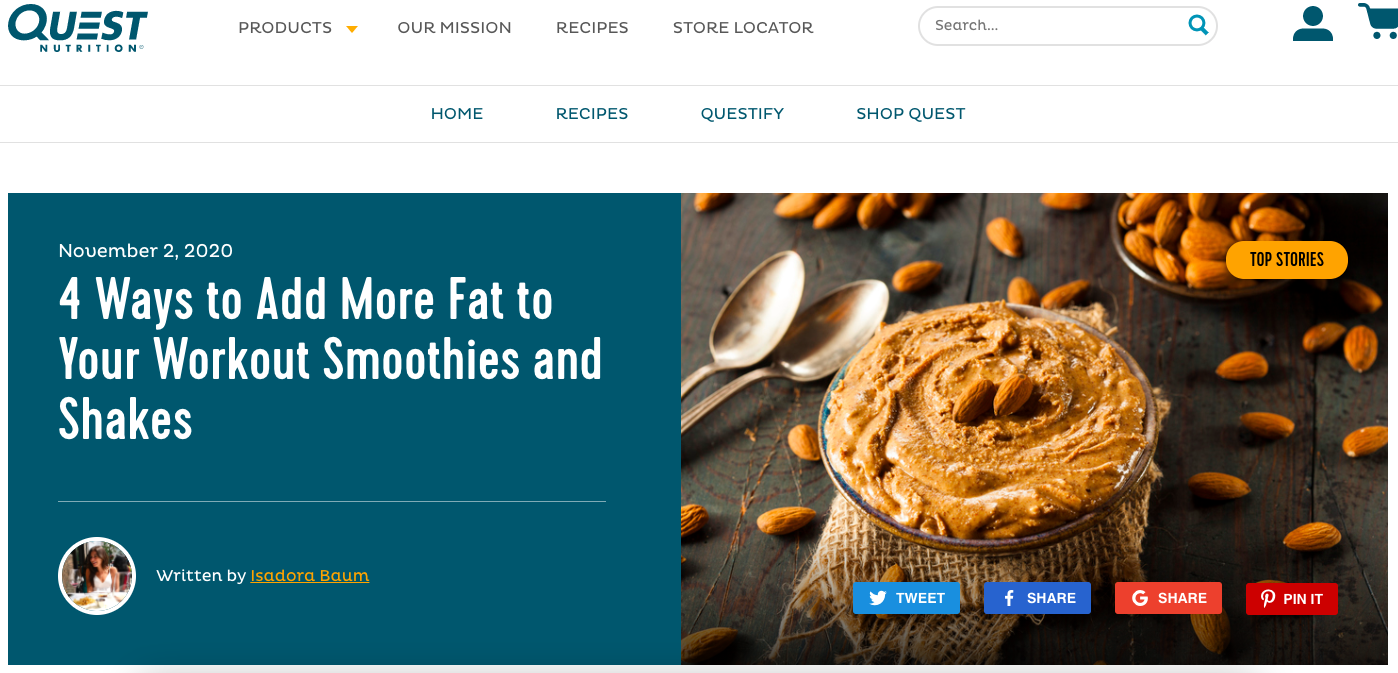 Personal Story
Personal stories are one of best ways to build a strong connection with your audience. People start to relate with you and trust you when you share your personal story with them. Such posts help you to engage with your audience easily and convert them into clients.
Take your audience through the entire journey, explain them the whole story with complete clarity. While sharing your personal story, don't try to promote yourself or your business.
You may have various amazing personal stories that you can share but remember to not only use these stories as your blog posts. If you use too many stories continuously, people may get bored of your blog. They may also start doubting you.
For example:
Kath Younger, a Registered Dietitian, shared one of her personal stories on her blog Kath Eats.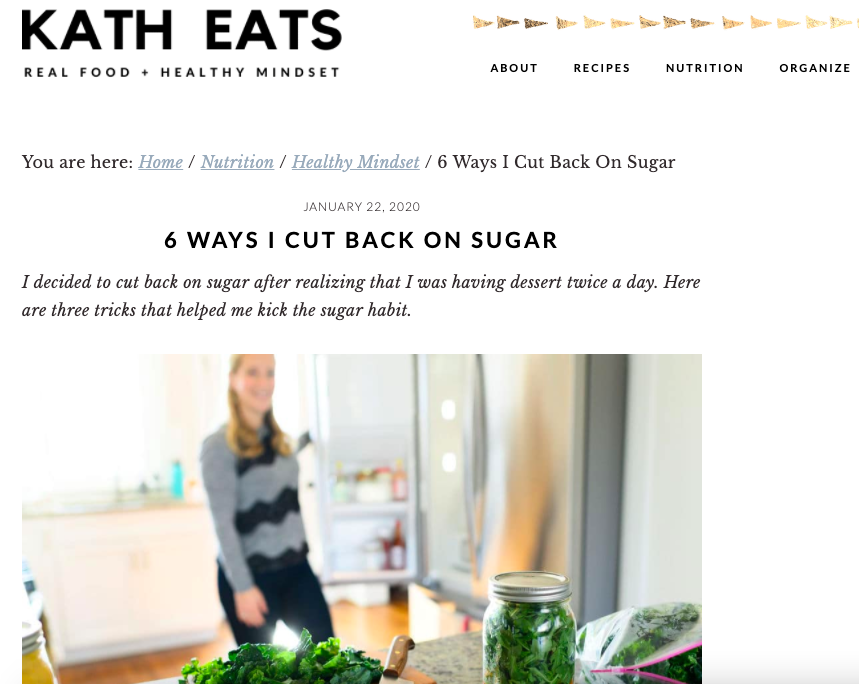 Client Case Studies
Sharing successful client journeys is a powerful way to attract your audience, earn their trust and convert them into your nutrition business clients. People begin to trust you more and see you as an expert when they can observe real life results of your nutrition business.
Start from the problems your client faced and how were they before they started taking your services. Take your readers through the timeline of events and the final result.
Make sure that you take their permission and share your blog post with them before publishing on your nutrition blog.
For example:
Legion Athletics shared one of their customer's personal story on their blog.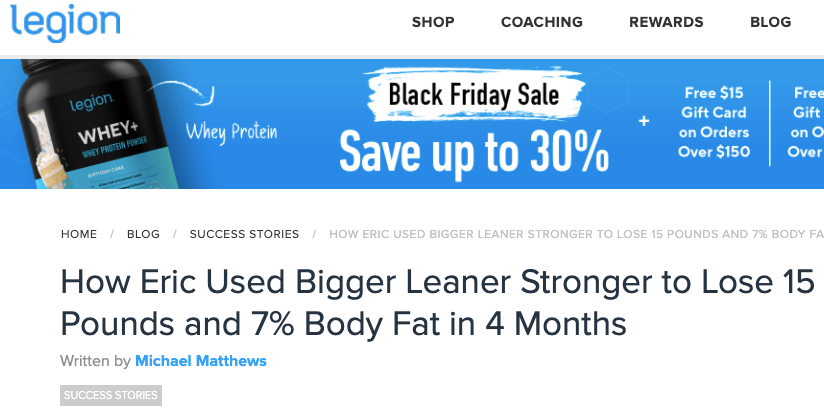 Meal Plans
You can also create blog posts on meal plans for your audience. Many people want to follow a nutritious diet instead of relying on ready-to-eat processed food. Making and sharing detailed meal plans will help increase engagement and get more clients.
Once people try out one of such meal plans, they'll start visiting your nutrition blog regularly and look at you as an expert. This can be a great opportunity to promote your nutrition business and get more clients.
For example:
Sharon Palmer, an award-winning blogger, registered dietitian nutritionist, and plant-based food and nutrition expert, has shared various meal plans on her blog.
Here is one of her blog posts on "Healthy Plant-based Meal Planning for Diabetes":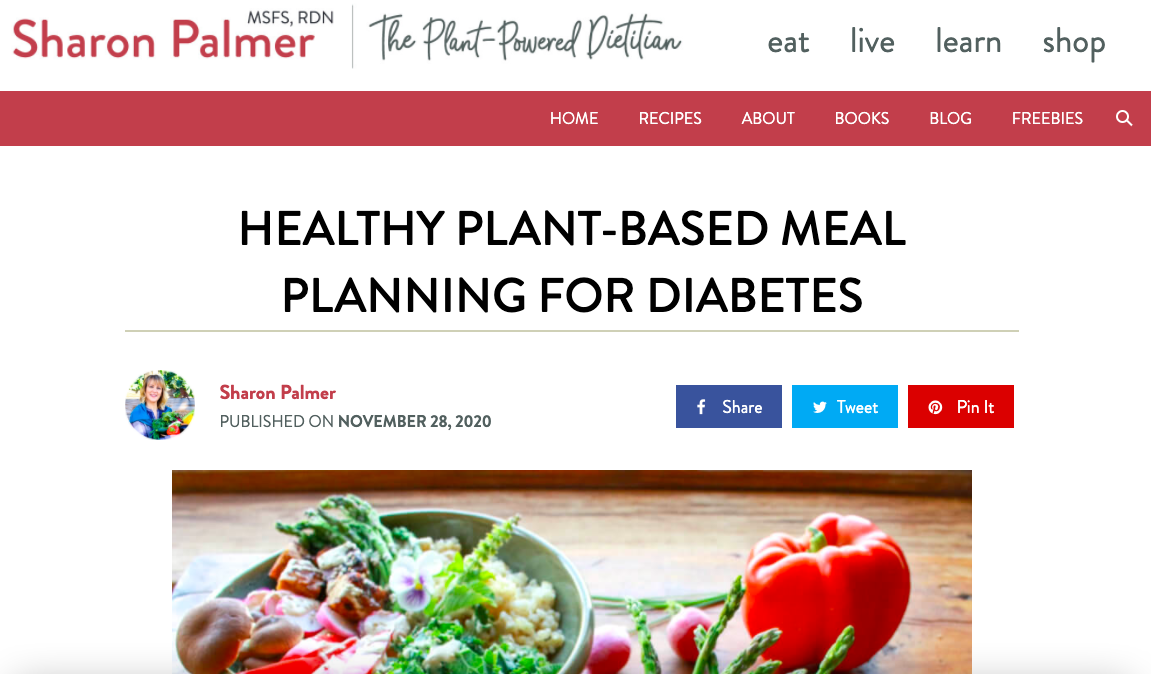 Recipes
Similar to meal plans, you can create and share posts on recipes. Find out what kind of food you're audience need and want, and share recipes based on that.
Remember to create those recipes that your audience can easily prepare and cook at their home. Think of the ingredients and utensils required, and make sure they must easily available to them.
Just like meal plans, recipes will also show your expertise and credibility. This will, furthermore, help you increase the awareness of your nutrition business and get more clients.
For example:
Here is a blog post by the Beachbody on Demand Blog on "Recipes to (Virtual) Cook With Friends"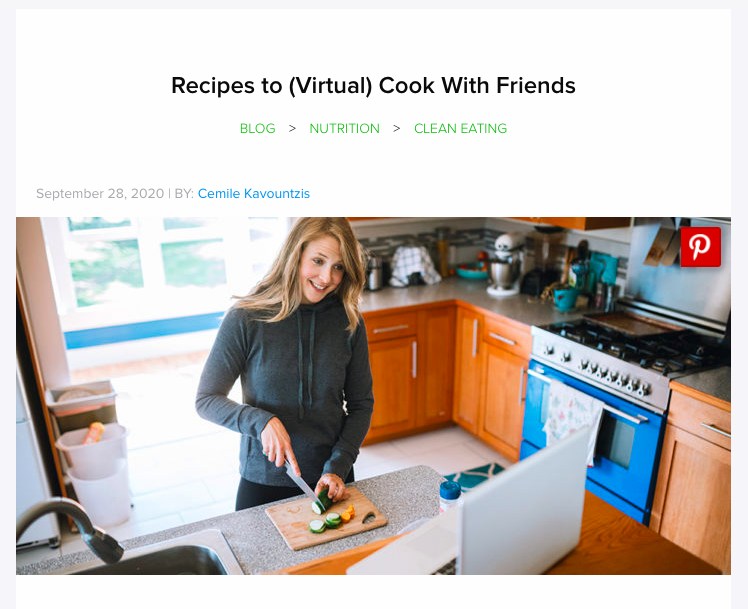 Conclusion
Use the step by step guide to create a successful nutrition blog and engage with your audience. If you're feeling tensed or nervous while getting started, use any of the above mentioned blog post types and get started on your nutrition blogging journey.